Roy Thompson – Faculty Highlight
Nursing goals are strong in Roy Thompson. Improving the nursing home workforce while understanding the relationship between staffing, models of care and  health disparities among nursing homes residents that belong to racial and ethnic minoritized groups.
Feb. 24, 2023
Roy Thompson
Preparing Future Faculty – Faculty Diversity (PFFFD) Postdoctoral Fellow
Sinclair School of Nursing
Nursing has many stories. A number of these stories start with the mind but play out and end with the heart. Gerontological nursing requires a special kind of heart. Older adults need to see the nursing uniform as something they can trust, but that trust doesn't always come freely, it must be earned. Great nurses understand the unique nature of caring for older adults and building a foundation to earn that trust.
Someone who has a unique perspective on that is Sinclair School of Nursing's Postdoctoral Fellow, Roy Anthony Thompson, PhD, RN, CCN. Roy's educational journey started off with a rough first year as a student at the University of the West Indies, in Jamaica. "I did horribly, I actually failed out my first year of college," admits Roy, but when a friend asked him if he would consider nursing, the wheels began to turn. "I have always loved taking care of sick people, but I thought, can men become nurses? I had never seen a male nurse in my life," Roy recalls.  
It wasn't long before Roy's research into the practice of nursing led him to apply and be accepted at the University Hospital of the West Indies School of Nursing. Once accepted, his academics and focus really began to flourish. "I loved what I was doing, but I had a very limited view of nursing before I went in because I only saw nurses when I got vaccines, and I thought that was the extent of the nursing practice. I learned that there was so much that a nurse does, I just absorbed every bit of it, and I was a very good clinician," Roy recounts.  
Not only was he learning, but Roy's love of teaching also began to shine through. He was always teaching nursing to medical and pharmacy students, "Any student that came into the hospital setting," Roy laughs. So, it was only fitting that Roy went on to receive a master's in advanced nursing education where he then applied to become a junior faculty member at The University of the West Indies School of Nursing, at Mona, Jamaica. He did not stop there, his PhD in Nursing from the Duke University School of Nursing in North Carolina soon followed.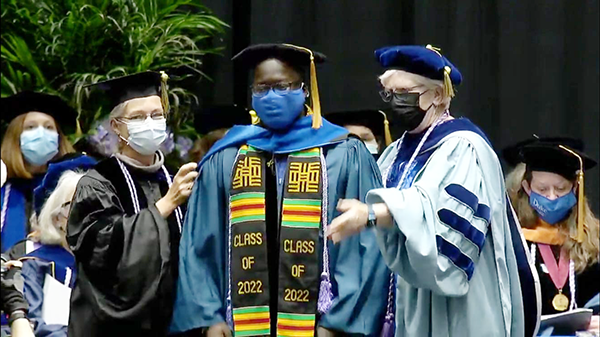 Gerontological nursing was the perfect fit for Roy. His passion for caring for the elderly was heavily influenced by Jamaican culture, "The culture in Jamaica is that older folks should be respected and revered. You should always show them reverence and so I am always listening and talking to older folks. I have always been fascinated to know what life was like when they were growing up and how it was different from my experience now." Roy's cultural upbringing paired with his nursing education has equipped him with an interesting perspective when it comes to the care of older adults. "Many family members say, 'Mom needs more care, mom isn't as strong.' It is natural to be protective of older adults, but we must recognize that being an older adult doesn't mean that they are sicker. You have sick older adults who are at risk of certain illnesses, but they are not always frail, and they are not incapacitated so you have to assess their independence," states Roy.  
His focus since starting at the MU Sinclair School of Nursing has been understanding nursing home staffing and possible solutions to stabilizing the long-term care workforce for older adults. Over the last ten years, nursing homes have experienced an increase in turnover, understaffing and are under-resourced, compared to the hospital setting. Fixing this critical need is a passion of Roy's. "I want to focus on the workforce itself to increase quality care to older adults. Less than 1% of registered nurses and less than 3% of Advance Practice Registered Nurses are certified or trained in the care of older adults. A lot of nursing care expertise is attained through learning on the job, so you really do have to build the workforce capacity to care for these older adults," states Roy. In addition, there are discrepancies in how the workforce is supported and paid. There are cultural differences, issues of racism and hierarchy of staff; through his research Roy plans to investigate and build a deeper understanding of these issues and possible solutions.
Roy is working on a study with Lori Popejoy, interim dean and associate professor and Amy Vogelsmeier, associate professor, funded by the Agency for Healthcare Research and Quality, which focuses on how Missouri nursing homes were impacted by the COVID-19 pandemic in order to prepare for future pandemics. Roy is particularly interested in understanding the relationship between staffing, models of care and health disparities among nursing homes residents that belong to racial and ethnic minoritized groups. The goal of Roy's research is to impact state and national policy. Policy makers are influenced by research findings and Roy wants to positively impact how nursing homes across the state are supported.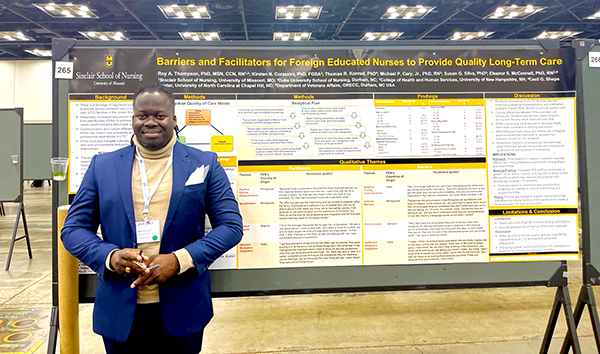 After coming to the U.S. and teaching at Duke, he learned how to navigate hurdles such as gender, race, culture and class issues with his students. Roy explains, "You have to find a way to be open to understanding that students learn differently, see the world differently and you must try to meet students where they are." Roy was trained as a teaching for equity scholar at Duke University and was taught how to navigate issues and to prepare lessons to be delivered in a way that made nursing students feel included. Nurses interface with people who are underrepresented minorities who are also marginalized. Roy shares some social identities that intersect and contribute to marginalization and discrimination. "I try to raise awareness so that no matter the decision, we look at how it will impact groups so that everyone is represented. It's difficult to have those perspectives when the room is not diverse," Roy explains. 
Understanding that these shifts are not quick, but that culture change is on the right path keeps focus strong. Roy recognizes that he too had personal views of gender roles within nursing that have shifted greatly from where he started that day he asked if a man could even be nurse. "I was looking at nursing from a cultural lens. In Jamaica, men are expected to be hypermasculine. I worried about going into a female dominated profession. I wondered what people would think about me. Funny enough when I went into the profession, people were so accepting. I've seen many more men transition into nursing since my time in Jamaica. I don't see a lot of Black men, but I really want to advocate for that change. While I am here, I will be making a lot of noise about getting more Black and more Hispanic Latinx folks here in our work and learning environment," Roy explains.
Research shows that more men are coming into the nursing profession. Men make up roughly 9% of the nursing workforce. It is incrementally changing, and it is the devotion and passion of nurses like Dr. Roy Thompson that are propelling the nursing profession toward greater inclusion of males. "What's unique about SSON is that it is one of the most supportive academic spaces I have ever been in. The culture is very different, the people are very congenial and polite, it is not toxic and that is not always typical of academic spaces. Since I have been here, I do feel very supported, and I do feel like I am valued. I feel very supported in my postdoc and very lucky to have good mentors. I've been appreciated and that makes me very productive," says Roy. 
When Roy isn't knocking down stereotypes and doing work that is bettering the nursing home workforce, he enjoys hanging out with friends, singing opera and talking to his family back in Jamaica. "I miss the food in Jamaica. I can't find ox tail, ackee and saltfish in Columbia," he jokes. His goal is to do more traveling even though his passport book is almost full. Among his international travels he has been to China, Malaysia, Trinidad & Bahamas, England, Mexico, Belize, Canada, Germany and all over the English-Speaking Caribbean islands and would really like to go to Puerto Rico next. 
Passion and drive are plentiful in Roy and that type of energy is the heart of the Sinclair School of Nursing. The best educators are those that can bring new and fresh perspectives while being open to discuss and change their own along the way. SSON is lucky to have Roy on our team– building relationships, breaking barriers and improving health care outcomes for all. 
---