Be the first to hold the inaugural Verna Adwell Rhodes Endowed Chair in Nursing. Dr. Rhodes is recognized as a pioneer in oncology nursing research and she is referred to as the "mother of oncology nursing symptom management and assessment." Her work led to the development of three oncology assessment tools that are used in 23 countries around the world.
Job Opening 35944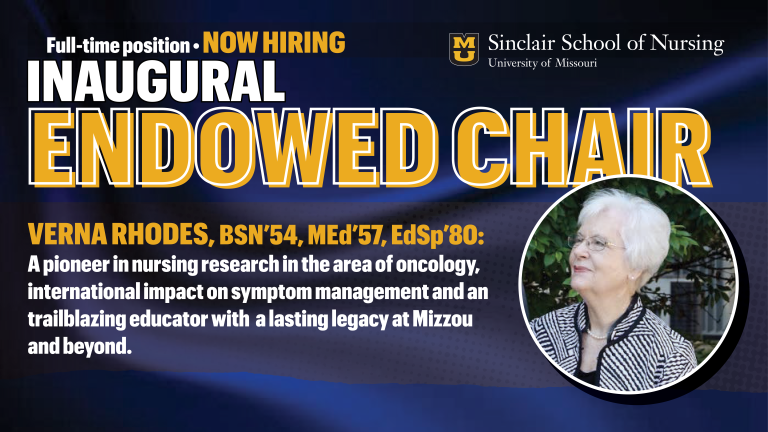 The University of Missouri and Sinclair School of Nursing are seeking exceptional faculty to move the university forward in national health and scientific priority areas related to our new NextGen Precision Health Initiative. To accelerate interdisciplinary collaboration, the Verna Adwell Rhodes Endowed Chair in Nursing will include the following research areas:
Oncology
Neuroscience
Cardiovascular and metabolic disorders
Aging
Maternal, infant and child health
Health Services Research and Informatics
Mizzou is a comprehensive campus that includes an academic health center, school of medicine, health professions, nursing, engineering, agriculture and veterinary medicine. This far-reaching campus fosters research from plants and animals to humans. As part of its land grant mission, Mizzou Extension is a recognized leader in the US, the only one with a primary focus on health, education, and local economies in every county, and the only one with a formal partnership with an academic health center. MU Extension links the resources, education, and knowledge of the University of Missouri to the communities throughout the state and provides an unparalleled pathway for translation of research to individuals, communities and populations.
A successful candidate is a research leader with a passion for interprofessional collaboration and the grit to address our world's most pressing research challenges.
Sinclair School of Nursing seeks a dynamic individual who will lead extramurally funded research programs, train doctoral students and postdoctoral fellows, provide academic service on campus and/or professionally, and contribute to one or more of the educational missions in undergraduate or graduate education. Successful candidates will be expected to possess robust, collaborative, externally-funded research programs.
The SSON is the academic home of 45 full-time award-winning members, who include members of the American Academy of Nursing, the National Academies of Science and Sigma Theta Tau International's International Nurse Researcher Hall of Fame.
Sinclair School of Nursing was the recipient of the largest grant in MU history, a $19.8 million grant from the U.S. Department of Health and Human Services Centers for Medicare and Medicaid Services (CMS) aiming to identify a new payment model for nursing home care that lowers hospitalization rates. This followed a completed $14.8 million project to reduce avoidable hospitalizations among nursing home residents.
How to Apply:
Click here
Select Academic Positions
Select Prospective Employees
Enter the job #35944 into the Search Jobs field. 
Click on position and apply for the job.
For More Information:
About submitting your application: Please call Ryan Schaefer at (573) 882-0204 or email musonrecruitment@missouri.edu
About the position: Please call Blaine Reeder at (573) 882-0206
or email blaine.reeder@missouri.edu
The University of Missouri is an equal access, equal opportunity, affirmative action employer that is fully committed to achieving a diverse faculty and staff. For more information, call the Vice Chancellor of Human Resource Services/Affirmative Action Officer at (573) 882-4256.