For many college students, spring break is a chance to take a much-needed vacation. Others may head home to visit their families and catch up on sleep. Several nursing students chose to use this year's spring break to serve others throughout the country and across the world. Here are a few of their stories. Gracie…
April 12, 2018
For many college students, spring break is a chance to take a much-needed vacation. Others may head home to visit their families and catch up on sleep. Several nursing students chose to use this year's spring break to serve others throughout the country and across the world. Here are a few of their stories.
Gracie Kelly, 7th Semester, Traditional BSN student
On her fifth Mizzou Alternative Breaks trip, Gracie was a site leader for an environmental service trip. Her team partnered with the San Juan Mountain Association to replace a rusty barbed wire fence that keeps wild horses in a safe region. They also helped with trail maintenance and trash clean up at the national parks.
"It was really out of my comfort zone," she says, "and I did that on purpose to learn about the environment and see how it is connected to health. I learned a lot. If we are more mindful of what we are putting into the environment and what we are putting into our bodies, we could see better health outcomes."
As a trip leader, Gracie also had to learn to handle unforeseen circumstances and plan changes.
"I had to learn how to adapt constantly," she says. "There were many solutions and problems that came around that I had to try to solve – that is 100% nursing."
Megan Sherman, 5th Semester, Traditional BSN, and Jonathan Aguilar, Accelerated student beginning May 2018
Jonathan and Megan were two of 60 Mizzou students who traveled to Harmons, Jamaica, with Veritas, a student ministry organization through The Crossing Church. The team built three homes for members of the community and spent time visiting patients in the infirmary, a home for those with physical and mental disabilities whose families could not care for them.
While in the infirmary, Megan and Jon sang to the residents and applied lotion to their feet.
"It showed me how the smallest of actions can have big impacts," Megan says. "As a nursing student and one day as a nurse, I am not above any need. I have time to do what my patient needs me to do."
Jon agrees – the infirmary experience pushed him to overcome insecurities to care for a patient in need.
"The infirmary was very outside my comfort zone," he explains. "I was expected to show love and care despite any of my personal insecurities. It ended up being my favorite part of the trip."
Gabby Sowa, pre-nursing student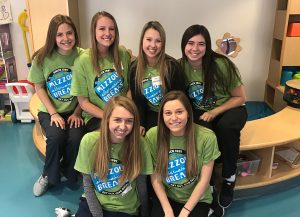 Gabby led a weekend trip to St. Louis Children's Hospital. As the community service chair of the Student Nurses' Association (SNA), she contacted Mizzou Alternative Breaks about a partnership. They agreed and helped organize a trip for students who are in SNA.
"I want SNA to be involved in the greater community, not just Mizzou," Gabby says. "I thought this would be a great experience for SNA to get more exposure. It was a great way to help people, promote ourselves and the school."
The students visited with children staying in the hospital, leading them in arts and crafts and playing with them. They also visited Avalon Gardens, a nursing home in St. Louis, to play bingo with the residents and shadow staff nurses. Along the way, Gabby says she grew in her conviction that a career in nursing was for her.
"I came away realizing how much work it is, but how worthwhile the work is," she says. "I really realized the effect just our interactions can have. I saw firsthand how much compassion can affect people of all ages in all settings."
---