First-Generation Week: Jayde Sharp
From a small-town high school where she worked extra hard to get ahead, to carrying the prestige of five degrees as a first-generation student – one word best describes Jayde Sharp, Unstoppable.
Nov. 10, 2023
Jayde Sharp is a true Tiger. As if getting two associate degrees, one in Arts and Science and another in Human Development Family Studies wasn't enough, she also has two Bachelor's degrees: a Bachelor's in Health Science and Nursing and, finally, a Master's degree in Nursing. All five of these degrees are from Mizzou. Her black and gold blood didn't stop there. She now works for the university as an assistant teaching professor for undergraduate studies at the Sinclair School of Nursing. Her area of focus is teaching clinical in fundamentals and med-surg 1. She also works in the simulation lab, teaching health assessment. Her nursing roots are deeply threaded here at Mizzou, but her story begins in a small town.
Hillsboro, Illinois, is home to the Hillsboro Hilltoppers, population just at 6,000. Sharp recalls her days there as a high school student with a dream, "to have a degree, a great job, a beautiful home, and a loving family." She was supported in this dream by her parents and grandmother. Both her mother and father dropped out of high school growing up, later getting their GEDs. They knew they wanted more for their daughter. "They were willing to help push me to pursue my goals and my career path even when it went a different way," she explains. After arriving at Mizzou, Sharp started volunteering at the hospital in the oncology unit and fell in love with the population. She accepted a nurse tech position in oncology and that was when she knew nursing was exactly what she wanted to do. However, achieving her goals would not come easy.
"I was one of the lucky students that did not get into the traditional program here at Mizzou. I applied multiple times and did not get in. I was to the point that I wanted to change my career path because I did not feel 'good' enough to be a nurse," Sharp admits. Her family did not let her give up, instead they encouraged her to keep applying. Her grandmother was one of her biggest cheerleaders and a great inspiration in Sharp's life. She recalls her grandmother's spiritual words of encouragement. "This is God's path and purpose for you; do not give up on yourself." Determined to take her grandmother's advice, Sharp changed paths and sought out to get a degree in health science while continuing to apply to the nursing program. "I continued to push myself to be better the next time I applied," she admits. Her unfaltering determination paid off when she was accepted into the accelerated nursing program. "I knew that this route was exactly where God had planned me to be. There were many long nights of self-doubt, but I made sure to not give up on the career I knew I really wanted to pursue," Sharp explains.
In 2017, Sharp walked across the stage in Hearnes Auditorium, the first of her family and accepted her Bachelor's degree in Health Science as well as her Associates degrees in Arts and Science and her Associates degree in Human Development Family Studies. She was back again in 2018, accepting her Bachelor's in Nursing degree and yet again in 2023 to accept her Master's in Nursing degree. Her parents and grandmother were at every graduation.
"I am in awe to see how everything has laid itself out and how blessed I am to have not given up on my goals and dreams," Sharp says. "I never believed that I would be teaching college-age students, but I love teaching nursing to the future generation and seeing the light bulb moments from my students."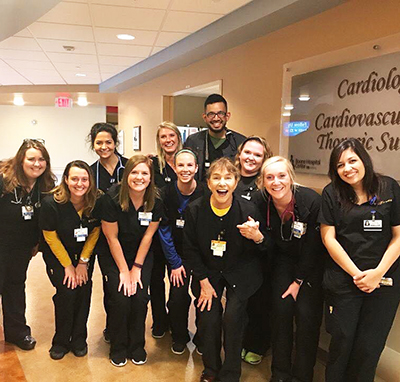 Sharp feels that MU nudged her along the way in times where she needed it most to become a first-generation student. She attributes this to the constant flow of new opportunities that MU gave her. Many faculty and friends helped to continue on her path when she needed it. "MU always had my best interests in mind throughout my time here," she admits.
Jayde Sharp's story is proof that hard work and determination does pay off. From a small-town high school where she worked extra hard to get ahead by taking as many college credit courses as she could, to carrying the prestige of five degrees as a first-generation student – one word best describes Jayde Sharp, Unstoppable. When the pursuit of education and greatness is in your blood you don't accept "no" and you don't stop. When asked if she were going to add any more degrees to that list, one would expect the answer to be, 'no.' But for Jayde Sharp, she chuckles and tentatively says, "DNP-FNP" (Family Nurse Practitioner).
---