Meet Brittney Stephens – First-Generation Day 2022
Meet Brittney Stephens, an SSON first-generation graduate turned simulation program coordinator and a true Mizzou Nursing success story.
Nov. 9, 2022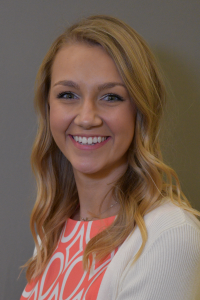 My name is Brittney Stephens, and I am a first-generation high school and college graduate. I attended the Sinclair School of Nursing and graduated from the traditional Bachelor of Science in Nursing Program in December 2019. I am currently in the Master of Science in Nursing program with an emphasis in Leadership and Healthcare Systems Management, and I anticipate graduating in May 2023.
I am fortunate to have had my family's full support in whatever career path I chose, and I attribute much of my academic success to their support of my desire to receive post-secondary education. I knew from a young age that I wanted to be a registered nurse, which requires college education for board certification eligibility.
Going away from my home for the first time in hopes of obtaining a degree at Mizzou was incredibly terrifying. My parents couldn't give advice from their experiences, and they were just as unsure of what to expect for me while attending a large university. With hard work and dedication to my studies, and maybe a little luck, I earned a seat in the January 2018 Spring Nursing Student Cohort at the Sinclair School of Nursing. I was proud of this accomplishment, and how far I had come in being awarded the honor of being a Mizzou Nurse.
I graduated in December 2019 with my BSN, and it still is one of the proudest days of my life. I had earned my degree that I have dreamed about since childhood and secured a job working for the University of Missouri Hospital in the Cardiac Intensive Care Unit. While working as a bedside nurse in CICU through the pandemic, I applied to the MS(N) program and began my coursework in fall of 2020. I have always been a natural leader and knew that I could see a successful future for myself in a nursing leadership role.

I began working for the Sinclair School of Nursing, what felt like my home away from home, in November 2021 as the Simulation Education Coordinator. I coordinate all the simulation education that undergraduate students participate in during their time at Sinclair of School of Nursing. Additionally, I maintain the equipment, high-fidelity mannequins, task trainers and the Miller Family Simulation Center at SSON. I am working in the leadership role that I wanted for myself in the place where my dream of being a Mizzou Nurse graduate all began.
---