Mizzou Nursing in South Korea: Nurturing Global Perspectives in Health Care
SSON gerontology students embrace cross-cultural learning, discover similarities and differences in nursing care
Sept. 6, 2023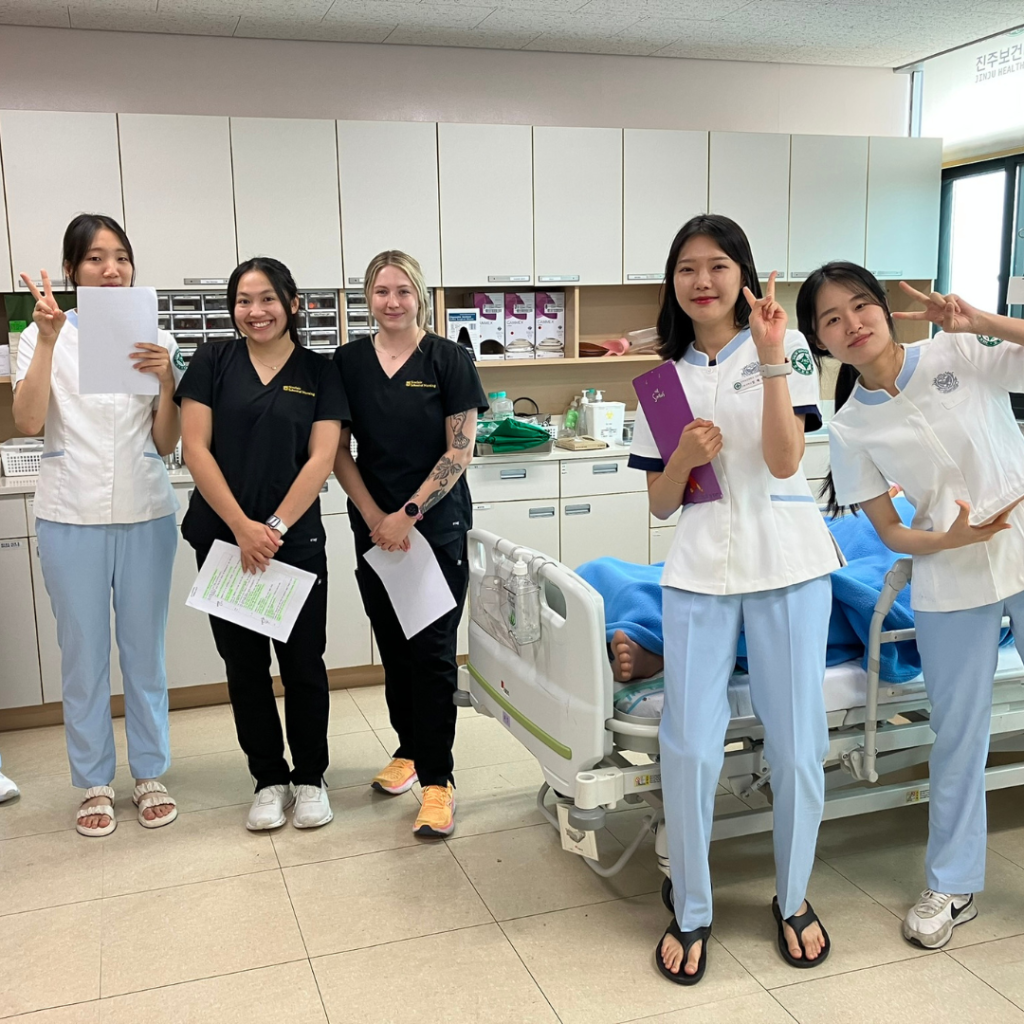 The University of Missouri's Sinclair School of Nursing embarked on an enlightening voyage, bridging continents and cultures through the Mizzou Nursing in South Korea program for a month this summer. SSON instructor Sue Yun Fowler along with a visit from assistant professor, Dr. Knoo Lee, guided five gerontology students through an experience that challenged them to deeply engage with the local health care system and culture.
Lee, an advocate of immersive learning, emphasized, "Students participating in the nursing-oriented exchange program are encouraged to fully immerse themselves in how nurses function as an essential health workforce in another country." The program allowed students to engage with local services by actively participating in and experiencing the health care services that cater to the needs of the local community.
They not only compared nursing practices between the US and South Korea but also witnessed the integration of traditional and modern health care. BSN student, Vy Luong says, "We saw their passionate focus on enhancing specified care for older adults, where care is not considered the same as for others. We also saw their efforts to enhance health care knowledge at varying site visits ranging from public health centers to elementary schools." This experience has taught Luong that despite being oceans apart, nurses are united in their desire to innovate all aspects of health care to provide the best care to patients.
Yun Fowler, reflected on students' growth, stating, "Each student took on the challenges of a new environment, language and culture with open arms and minds and, in their own ways, came to embrace the similarities and differences between the two worlds, cultures and people as a beautiful example of our values of Respect, Responsibility, Discovery and Excellence." She also underscores the educational activities, site visits and cultural experiences followed by discussion and journal reflections, which were crucial to professional and personal growth. BSN student, Abby Springer says, "As a nurse, it is highly important that we understand and know how to be culturally competent so that way we can provide our patients with the best quality care possible."
In the end, the Mizzou Nursing in South Korea program exemplified the power of cross-cultural education, cultivating respect, empathy and shared values in health care and beyond. Yun Fowler reflects fondly, "We brought our Mizzou spirit and values to Jinju, South Korea, and if all the farewell tears at the closing ceremony are any indication, I would say we made some Tiger fans. MIZ!"
---